I'll be busy tonight making a bunch of Valentine stuff with the kids. Talk about Procrastination...LOL, Yep, that's just how I roll!
I'm going to make my own sort of printable using this idea for my sons preschool class. Wish I could find a printable all ready to go, haven't had too much time to try and find one, I'll just make one later tonight. I love this idea, cute and simple and perfect for preschool.
You can also say "Will you O'Fish'ally be my Valentine?"
So cute!
My oldest daughter wanted to make these for her 3rd grade class, but I couldn't find any Pop Rocks...weird!??
So, we are making these for her class and my other daughters 1st grade class as well. They should turn out cute. Go Here for the
Free Printable
too. That's always a plus!
I'll be helping in my daughters 1st grade class. So a couple other moms and I tried to brainstorm up some easy ideas.
We will be doing this easy and fun game
Use the larger version of these candy hearts. The kids desks are already grouped together in groups of 5, so with there little groups we will have them stack the hearts as high as they can. Whoever can stack it the highest and it stays for 3 seconds wins! I think they will like it.
We will also be doing
Don't Eat Pete.
I love this game. It's so simple, but kids love it! It's easy to do with popcorn or cereal instead of candy pieces, I think they will get enough sugar on Valentines Anyway. You can use this game for so many things! I already had this print out, so I just made a couple extra copies and laminated it for each table group.
Here is a cute Valentine version that I found after the fact. :)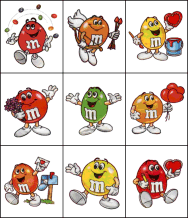 There are many other versions on the web.
Plus you could make it a gift for any holiday. Print it out, laminate and add a bag of M&M's....cute gift and it's for some family fun time too! Love it!
We will also be doing some cute and easy crafts in the classroom, there are so many on the web, it's hard to choose.
I also loved this idea for a drink. "Love Potion" you could add a crystal light or kool-aid mix in. They would have fun mixing in their love potion. :) I may just do this with my own kids rather than a class of 26 kids :)
Well, that's that for class room and kids valentine ideas this year.....now to think of what to do for my own family! Whew, it could be a long night! Wish me luck! ;)

Of course I already know what's for breakfast...pink pancakes, strawberry milk and whatever other pink stuff I can think of. The kids love it! Then, for St. Patrick's day it will be green!
Happy Valentines Day!